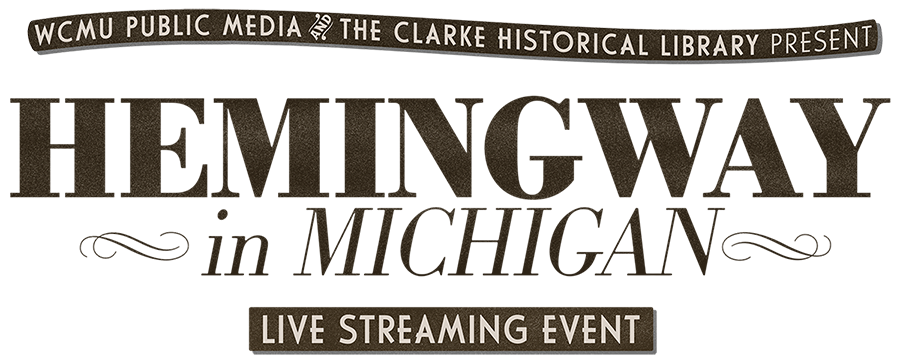 Join WCMU Public Media in partnership with the Clarke Historical Library for Hemingway in Michigan: A Live Streaming Event.

In anticipation of the new Ken Burns and Lynn Novick documentary series HEMINGWAY premiering on April 5th at 8 p.m., our March 31st virtual event will feature the earliest chapters of Ernest Hemingway's life — that took place in the heart of Northern Michigan! Discover artifacts that tell the tale of the author's Up North years and beyond, thanks to the Clarke Historical Library alongside famed historian Michael Federspiel, via vignette videos and a live in-studio conversation hosted by WCMU's Matthew Ozanich.

Virtual attendees will also get an exclusive advanced preview of the newest film by Ken Burns and Lynn Novick, HEMINGWAY, that premieres on Monday, April 5th at 8 p.m. on WCMU.

During the film screening, there will a LIVE conversation with HEMINGWAY filmmaker Lynn Novick and producer Sarah Botstein. Viewers will have an opportunity to ask the filmmakers questions about the film and this incredible story of one of America's most monumental figures.

Plus – WCMU is seeking a call for entries from Michigan students in partnership with area libraries to submit written entries about their personal experiences, drawing inspiration from Ernest Hemingway. Details on this Hemingway Artistic Expressions Competition for Teens to come.

You can view/listen to the winning entries here

The
Hemingway in Michigan: A Live Streaming Event
is in partnership with the
Clarke Historical Library
and is sponsored by
CMU Libraries
and the
Library of Michigan.
Corporate funding for HEMINGWAY was provided by Bank of America. Major funding was provided by the Annenberg Foundation, The Arthur Vining Davis Foundations, and by "The Better Angels Society," and its members John & Leslie McQuown, the Elizabeth Ruth Wallace Living Trust, John & Catherine Debs, The Fullerton Family Charitable Trust, the Kissick Family Foundation, Gail M. Elden, Gilchrist & Amy Berg, Robert & Beverly Grappone, Mauree Jane & Mark Perry; and by the Corporation for Public Broadcasting and PBS.

Let's Go Back | Hemingway in Michigan Teaser
Watch more
Let's Go Back
short stories featuring Ernest Hemingway and the Clarke Historical Library at
WCMU.org/digital
.